Takanobu KOBAYASHI
Far Light
2008年11月18日(火)-12月20日(土)
18 November – 20 December 2008

日曜 月曜 祝日 休廊
Closed on Sundays, Mondays and National holidays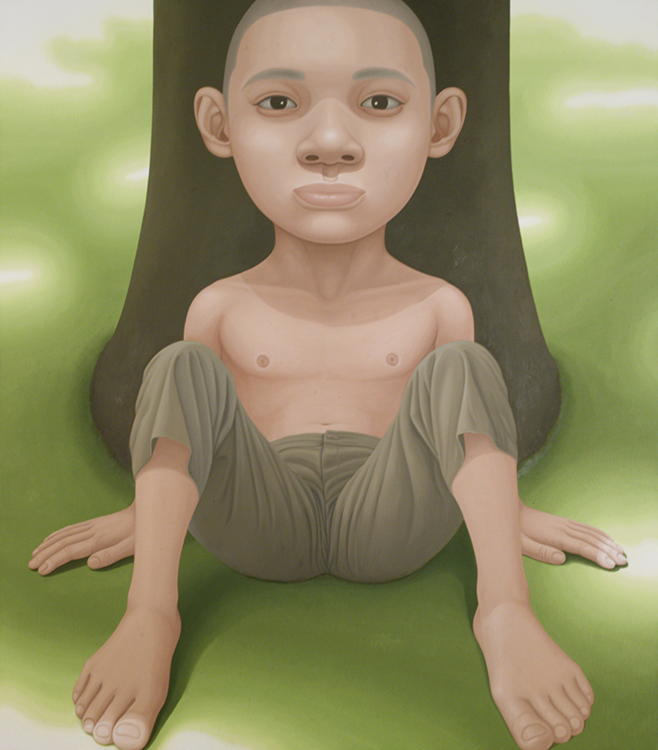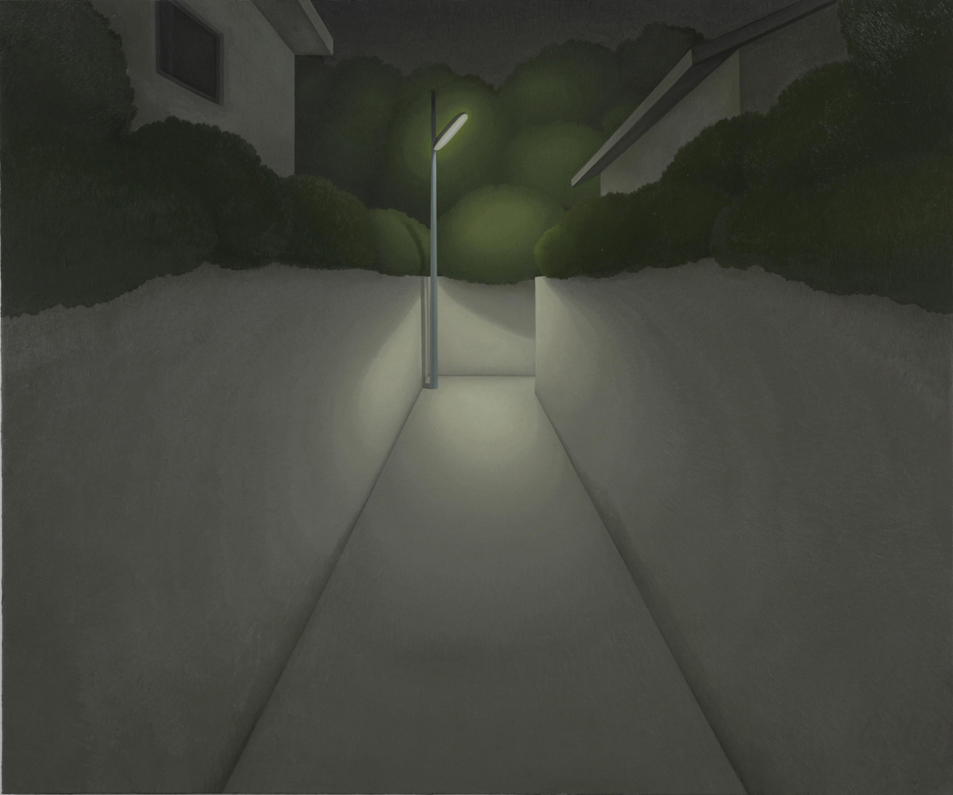 西村画廊では2008年11月18日(火)より12月20日(土)まで「小林孝亘 遠い光-Far Light」を開催いたします。人気作家による一年半ぶりの個展、当画廊の今年最後の展覧会となります。

小林孝亘は1960年東京日本橋に生まれ、1986年に愛知県立芸術大学を卒業しました。80年代から90年代前半にかけて、自己防衛の手段として外界との接触や関係を断つ自身の姿を投影した潜水艦をモチーフに、大胆な筆触と重厚な絵の具使いで画面を構築する作品を制作し、その後1995年に水戸芸術館で開催された「絵画考'95」において、木漏れ日に包まれる公園の水飲み場や犬を描いた油彩を発表して高い評価を得ました。1996年には、VOCA展で奨励賞を受賞、当画廊での初個展もこの年に行いました。1999年以降は、東京とバンコクを行き来しながらの制作を続け、タイでの日常生活から食器や車のテールランプなどの題材を見いだし、それと同時に光を巧みに用いた独自のスタイルを確立して賞賛されました。その後小林は、「Small Death-小さな死」や日光浴をする人を描いた「Sunbather」など、人物を新たなモチーフに選ぶことで更なる展開を見せます。2004年には目黒区美術館で個展「小林孝亘―終わらない夏」を開催、また2006年の西村画廊での個展では、人物の顔をクローズアップで描いた「Portrait」を発表しました。今年初めに開催された東京ステーションギャラリー企画の『現代日本の展望』展では、小林の代表的なモチーフである枕と木漏れ日のさしこむ森を新たに描き出した作品「Pillow」「Path in the forest」を発表し、「Pillow」は東京ステーションギャラリーに収蔵されました。また現在、東京都現代美術館では、眠る人を描いた5メートルを超える大作「Dream, dreaming us-私たちを夢見る夢」が常設展示されるなど、その精力的な活動から既知の領域に留まらない発展的な姿勢を伺い知ることができます。

この度の展覧会では、昼夜を通しての光の移り変わる様をテーマに、それぞれに異なる空間と要素をモチーフにした油彩11点の作品とドローイング5点で発表します。川岸が朝日に染まる日常の断片的な風景を描いた「River bank」や夜の森の中に懐中電灯を持った人物のシルエットが浮かび上がる「Electric toach」、枝葉の間から漏れてくる光の中で一本の太い木にもたれかかり、前方を見据えてゆったりと座る少年を描いた「Root」など、多様な光の取り巻く様相とそれによって演出される状態とが劇的に描かれています。朝から夜までという一日の時間の振幅の中で変貌を遂げ状況に応じた多彩な表情を見せる光の気配を見る者に体感させるとともに、小林が提示する既存の「光」「もの」という主題の双方を融合させた、いわば集大成ともいうべき新たな挑戦の成果を展望いたします。どうぞご期待下さい。
Nishimura Gallery is pleased to present "Kobayashi Takanobu – Far Light", the 9th solo exhibition of the works by KOBAYASHI Takanobu in our gallery, from Tuesday November 18 to Saturday December 20.

KOBAYASHI Takanobu was born in Nihonbashi, Tokyo, 1960. He graduated from Aichi Prefectural University in 1986. Toward from 1980's to 1990's, he made a number of paintings of a submarine wandering alone in different daily scenes, in which the subject was a metaphor to the state of his mind feeling and observing the world in solitude. In the "Mito Annual'95-Discover Paintings; works & language", he showed the series of paintings creating the scenes in the play of sunlight through the trees. Those works were highly applauded by the critics and the public. In 1996, he won the Encouragement Prize in the Vision of Contemporary Art (VOCA) competition, and later in the year Kobayashi's first solo exhibition at the Nishimura Gallery was held. After 1999, he started to live and to work both in Tokyo and Bangkok, Thailand. The environment of Thailand led him to find new subjects, and to evolve his distinctive expression of glowing light. The fruits of the evolvement are seen in "Small Death" series (2001-2002), or "Sunbather" series (2003-2004). In 2004, his solo exhibition "Kobayashi Takanobu - Endless Summer" was held in the Meguro Museum of Art, Tokyo. In 2006, a series of close-up faces titled "Portrait" was shown in the solo exhibition at the Nishimura Gallery. The exhibition "Horizons-Perspective of Contemporary Painting" was held in the beginning of this year at the Tokyo Station Gallery, two of his new paintings, "Pillow" and "Path in the Forest" were shown. The large painting over five meters representing a sleeping figure, "Dream, Dreaming us" is now exhibited in the Museum of Contemporary Art Tokyo.

This solo exhibition will show his new works containing 11 paintings and 5 drawings, which are in the theme of light movement through day and night. "River Bank" shows a bank in the morning sunlight. "Electric Torch" depicts a dim light held by a shadowy figure standing in a dark forest, and "Root" is a scene of a man sitting back on a tree in the playing sunlight. In these works, the light shows many different characters in various times and situations, but it always casts quietly and softly, and from the midst of which, with his use of tidy geometries and thick uniform paints, Kobayashi raises out strong solid presence of the motives. Kobayashi's quest has been intent for the feeling of presence in relation with the light. In this exhibition, you will see the finest conclusion that he has reached.
Kobayashi's paintings are collected by many museums such as the National Museum of Art, Osaka, Museum of Contemporary Art, Tokyo, Ohara Museum of Art, Okayama, Takamatsu City Museum of Art, Tochigi Prefectural Museum of Fine Arts, Contemporary Art Gallery, Art Tower Mito, Ibaraki and Hiroshima City Museum of Contemporary Art etc.