Richard Hamilton
prints 1975-2007
2008年10月7日(火)-11月1日(土)
7 October – 1 November 2008

日曜 月曜 祝日 休廊
Closed on Sundays, Mondays and National holidays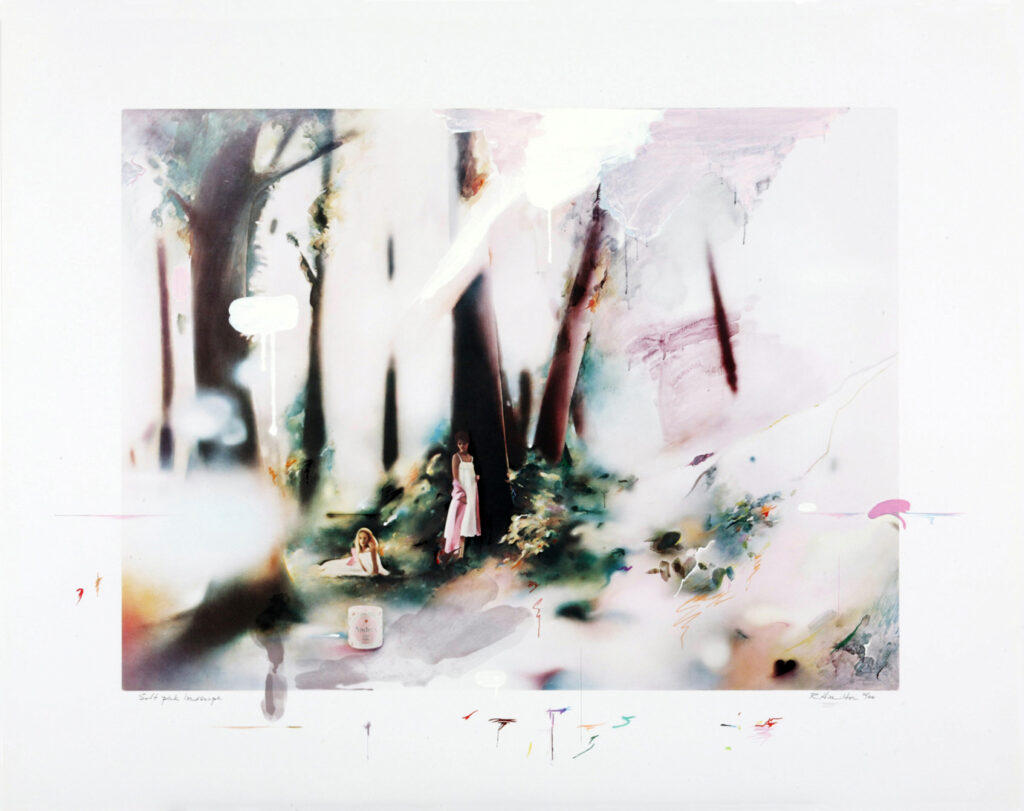 2008年10月7日(火)より11月1日(土)まで「Richard Hamilton -prints 1975-2007-」を開催いたします。

リチャード・ハミルトンは1922年ロンドンに生まれました。1956年にホワイト・チャペル・ギャラリーで開催された「This is Tomorrow (これが明日だ)」展において、「 Just what is it that makes today's homes so different, so appealing? (いったい何が今日の家庭をこれほど違った、魅力的なものにするのか?)」を発表したハミルトンは「ポップ・アート」の先駆者としてその名を知られています。
西村画廊ではこれまでに、「Interior」展(1985年)、ジョイスの小説「ユリシリーズ」の壮大な世界を独自の美術的見解から再構築した個展「Ulysses by James Joyce」(1993年)や、デジタルプリント技術を用いて制作した全く新しい版画を紹介する個展「New Technology and Printmaking」(1999年)等を開催しており、この度の個展は第5回目となります。
本展では「ポップ・アート」以降の現代美術の第一線を常にリードしてきたリチャード・ハミルトンの独創性、多様性を示唆する版画作品と書籍「Polaloid Portraits」を展示いたします。二人の少女が森のなかで佇むトイレットペーパーのある風景画「Soft pink landscape」、美術史上もっとも繰り返し表現されて来た主題とも言える「受胎告知」を現代的にアレンジした「The Annunciation」や1968年にリリースされたビートルズの「White Album」と呼ばれる名盤に差し込まれたポスターを自ら版画にリバイバルさせた最新作「The Beatles」など、世界的な芸術家としての積み重ねと奥行きを感じさせる近作を含めた12点の展観です。
大衆文化や社会の動向と寄り添って柔軟な姿勢をもちながら、長年にわたり徹底した独自の世界を展開してきたハミルトンを回顧する展覧会にどうぞご期待下さい。
なお、リチャード・ハミルトンは本年10月に高松宮殿下記念世界文化賞を受賞いたします。
<出品作品>
・「Flower piece B」 1975年 65x50cm ed.75 lithograph
・「Soft pink landscape」 1980年 73×91.8cm ed.136 collotype and screenprint
・「Archive II」 1981年 90×69.5cm ed.15 lithograph
・「Polaroid Portraits」 (Book)
・「My Marilyn」1984年 84.1x60cm offset lithograph with artist's signature (poster)
・「Marconi & Son」 1998年 73x89cm ed.20 iris digital print
・「The Annunciation」 2005年 59.4x68cm ed.60 inkjet digital print
・「The Beatles」2007年 105.4×75.9cm ed.80 inkjet digital print 
他
Nishimura Gallery is pleased to present "Richard Hamilton prints 1975-2007" from Tuesday, October 7th to Saturday, 1st November 2008.

Richard Hamilton was born in London, 1922. He exhibited the collage "Just what is it that makes today's homes so different, so appealing ? " in the exhibition of "This is Tomorrow", at Whitechapel Art Gallery in London, 1956. Since then, he is recognized as a pioneer of pop art in art history.
Until now Nishimura Gallery held 4 solo exhibitions of Hamilton, including "Interior"(1985), "Ulysses by James Joyce"(1993) which visually reconstructed Joyce's grand novel from his original point of view, and "New Technology and Printmaking"(1999) which introduce his works made with the new technology of computer graphics, digital inkjet prints etc.
"Richard Hamilton prints1975-2007" is his 5th exhibition in our gallery. In this show, we exhibit 12 experimental prints and the booklet of "Polaroid Portraits". "Soft pink landscape (1980)" shows two girls in a romantic forest with toilet roll using collotype and screen. " The Annunciation(2005) ", he gave a contemporary arrangement to the subject, which has been expressed over and over in the long history of art. He remade the poster of the "White Album", a famous Beatles LP released in 1968 , as a digital print.
He will be awarded 20th Praemium Imperiale in this October.